Autodesk Revit 2021 Multi language x64
Minimum: Entry-Level Configuration
Operating System ⊃1
Microsoft® Windows® 7 SP1/8/8.1 x64
CPU Type
Single- or Multi-Core Intel® Pentium®, Xeon®, or i-Series processor or AMD® equivalent with SSE2 technology. Highest affordable CPU speed rating recommended
Autodesk® Revit® software products will use multiple cores for many tasks, using up to 16 cores for near-photorealistic rendering operations
Memory
4GB RAM
Usually sufficient for a typical editing session for a single model up to approximately 100 MB on disk. This estimate is based on internal testing and customer reports. Individual models will vary in their use of computer resources and performance characteristics
Models created in previous versions of Revit software products may require more available memory for the one-time upgrade process
Video Display
1,280×1,024 with true color
Video Adapter
:Basic Graphics
Display adapter capable of 24-bit color
:Advanced Graphics
DirectX® 11 capable graphics card with Shader Model 3 as recommended by Autodesk
Disk Space
5GB free disk space
Pointing Device
MS-Mouse or 3Dconnexion® compliant device
Browser
(Microsoft® Internet Explorer® 7.0 (or later
Connectivity
Internet connection for license registration and prerequisite component download
What's New in Revit 2021: Top Features for Architects in Revit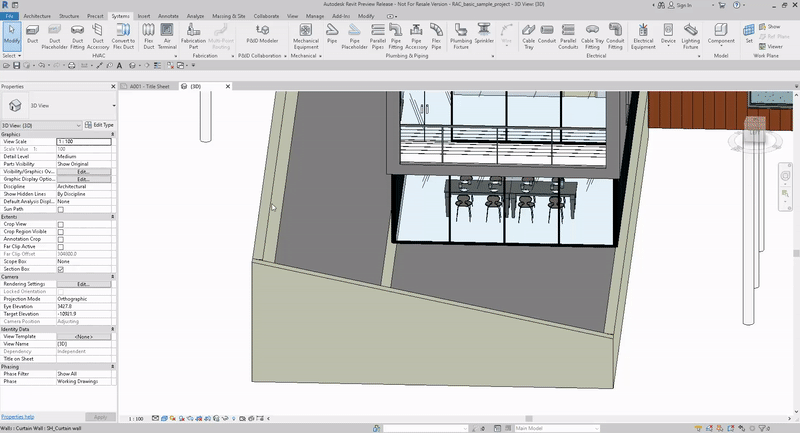 Slanted Walls
New Feature
If there's a top-billed feature in Revit 2021, the new ability to create slanted walls is it.
In Revit 2021, users can utilize the Cross-Section parameter when creating or modifying a wall to make it slanted. The Angle from Vertical parameter then specifies the wall's angle from -90 to +90 degrees, where zero degrees is vertical. It is possible to set windows or doors in a slanted wall, but you'll have to specify that it should follow the wall angle with the Orientation Wall Instance Property.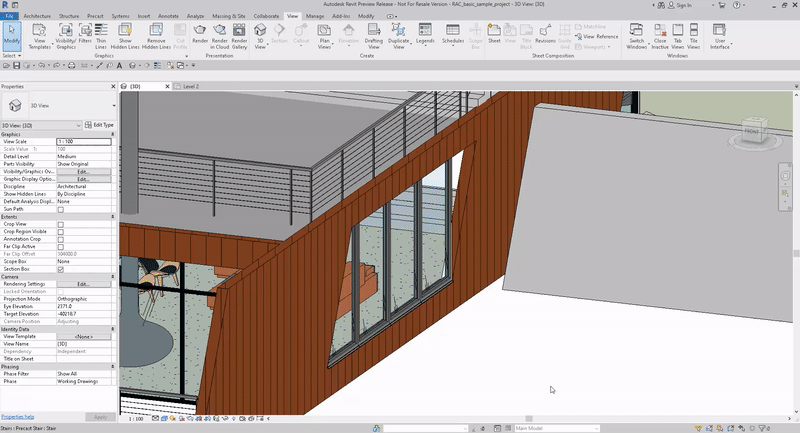 Slanted walls are able to be used as architectural, structural, or curtain walls in your projects, and can be edited in plan, elevation, section, 3D orthographic, and perspective views.
In general, the way you interact with slanted walls will be very similar to the way you interact with vertical walls (you can change an existing vertical wall to a slanted wall and vice versa), with just a few exceptions.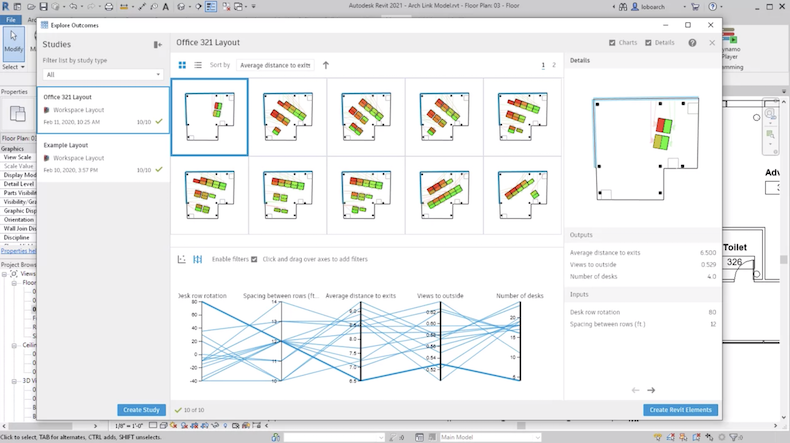 Credit: Autodesk
Generative Design in Revit
New Feature
With Revit 2021 comes a Generative Design tool aimed to help you rapidly create design alternatives in the midst of your workflow. In its most basic form, it allows you to specify your design goals, constraints, and inputs and then automatically generates rapid-fire iterations for your review.
The tool, which requires an Autodesk Architecture, Engineering, & Construction (AEC) Collection subscription to be able to use it, has tremendous potential but will require further testing to determine how useful version 1.0 actually is.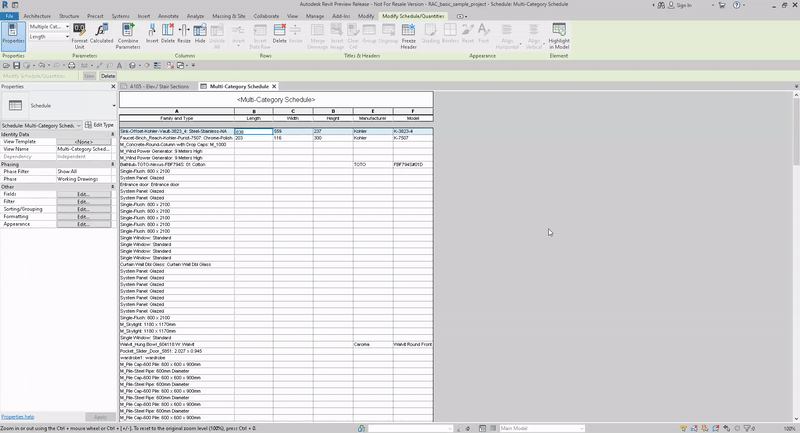 Freeze Header in Schedules
Enhancement
With the new Revit release, you now can freeze (lock) the main header and column headers in place to keep them visible when scrolling through it. When you unfreeze the headers, they may not be visible in every area while scrolling.
This feature, though nothing fancy, is definitely a convenience for those who regularly work with large schedules.
Keep reading for further enhancements to schedules in Revit 2021.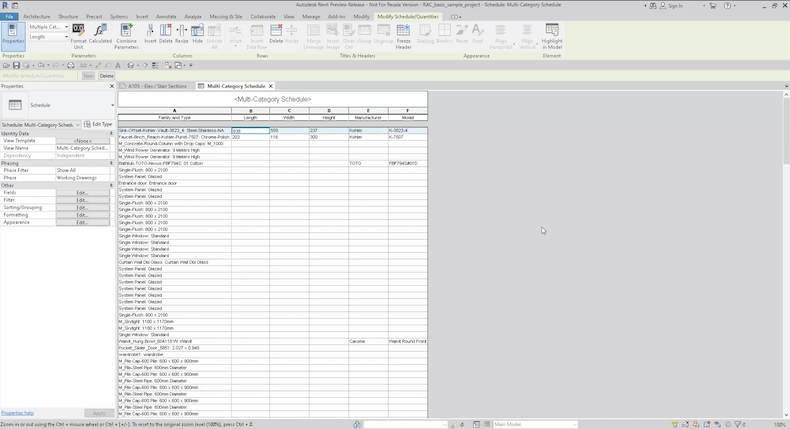 Highlight Active Row and Zoom in Schedules
Enhancement
In Revit 2021, the row and cell that are currently active are now highlighted so that you can easily see them in a large schedule.
You can also now zoom in on a schedule for large schedules as you would on any standard web browser by holding down CTRL and scrolling on your mouse wheel or using CTRL and +/- to zoom in and out. You can press CTRL and 0 to reset the zoom to default settings.
This enhancement, in addition to the Freeze Header and Striped Rows enhancements, will make it significantly easier to work with large schedules.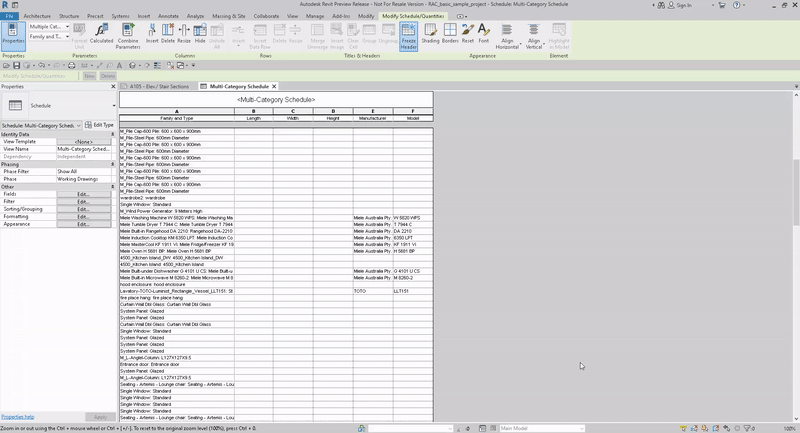 Striped Rows in Schedules
Enhancement
Yet another enhancement to schedules in Revit 2021, you can now set alternating rows to display in contrasting colors to make them easier to read and follow across wide schedules.
This feature can be found in the Schedule Properties dialog in the Appearance tab. It allows you to select your own preferred colors for the rows, which you can also specify in templates.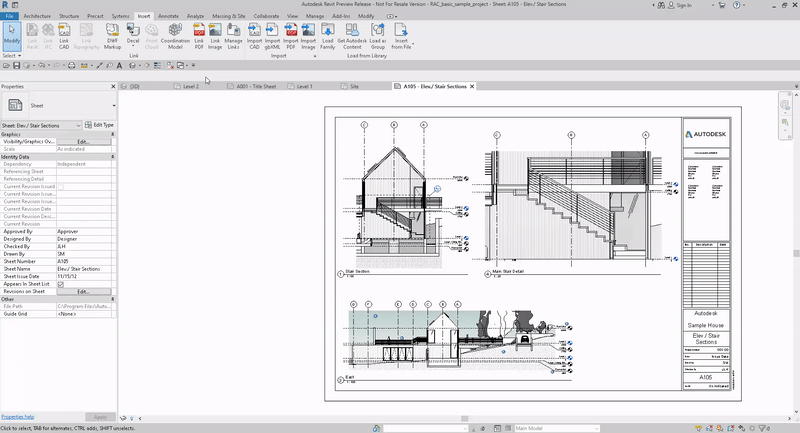 Link and Unload PDF and Raster Images
New Feature
Revit 2020 introduced the ability to import PDFs into projects, but Revit 2021 expands upon that basic functionality with the ability to create links to external files, allowing users to not bloat their project size unnecessarily and maintain visual fidelity, performance, and functionality.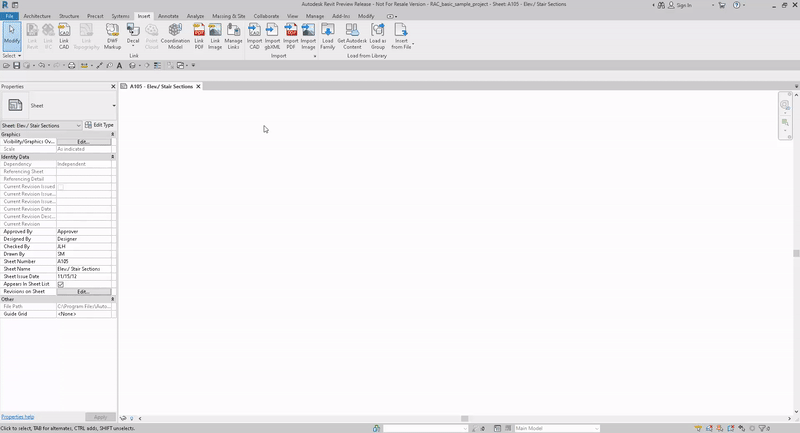 This enhancement, while not a new concept, allows for a wide variety of use cases where users will now be able to utilize PDFs or images for comparison or tracing in a model without increasing file size.
Customized Workspaces
New Feature
Revit 2021 introduces a new feature for users to customize their Revit interface based on their preferences.
You can begin by creating a user profile that allows Revit to provide a workspace recommendation that is tailored to your work discipline and job role.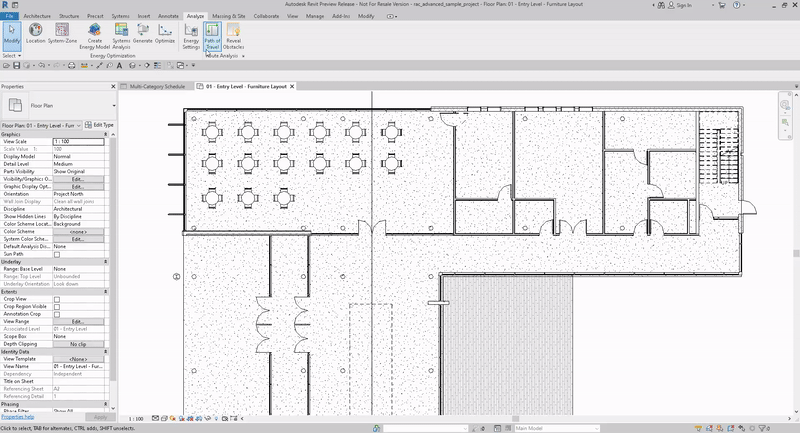 Path of Travel
Enhancements
The Path of Travel tool, which was first introduced in Revit 2020, now has a number of enhancements that improve upon the version 1.0 of the tool that we saw last year. Included are easy ways to view and adjust different components of your analysis.
– Modify Start and End Points: Use grips to reposition start and endpoints on a path of travel
– Reveal Obstacles: Visibility mode that allows you to inspect the view and understand which elements analyzed as obstacles during route analysis
– To Room/From Room Parameters: To Room and From Room parameters are enabled to display in the Properties Palette and can be used in schedules.
– Add and Remove Waypoints: Add and remove waypoints along a path or travel line to have more direct control over the path.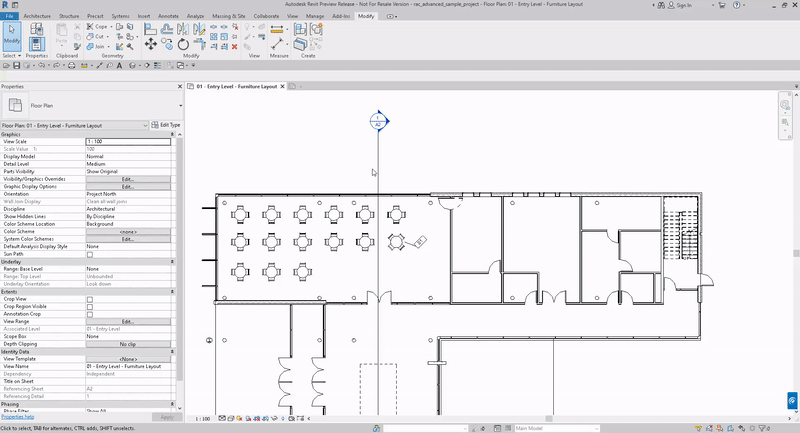 Rotate Section Heads
Enhancement
The parameter that used to be named "Rotate with component" is now labeled as "Rotate text with component". The text in a section head will now rotate as the section head is rotated and is oriented to the angle of the section.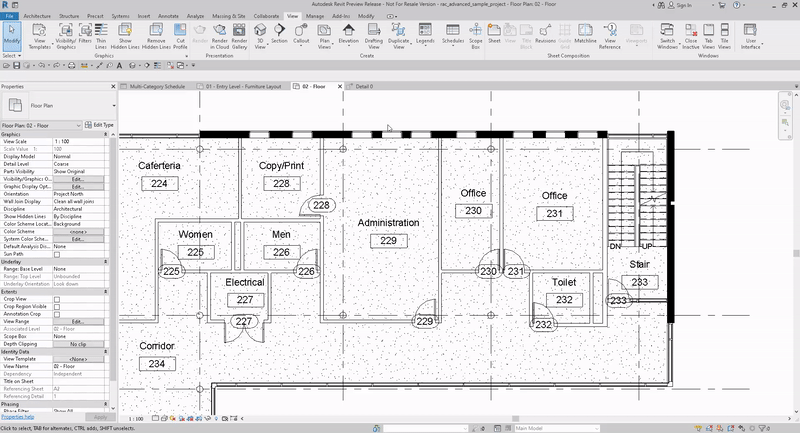 View Filters: Enable in View
Enhancement
View filters applied to a view can be enabled and disabled in the Visibility and Graphics dialog. This means that you can turn on and off view filters effects instead of adding and removing filters from the view.
Autodesk Revit 2021 Multilanguage x64
Multi-part archive
Please click to download 6 individual parts of the multi-part archive (then run PART 1):
---